BlueDolphin provides an option to quickly get an overview of all the processes that have been made within the organization from different perspectives.
Before you can see a process in the publication portal, it needs to be made official. We will explain further how to achieve this.
Different perspectives
The process publication portal is the place where everyone in the organization can find a structured overview of the officially modeled processes.
The portal does not only make the processes more accessible because all information can be found in one place, but it also makes it possible to approach the processes from different perspectives, which are:
User perspective
Process perspective
Application perspective
Information perspective and
Data perspective
This way you can choose what data you want to see in a BPMN process.
When you right-click to open a view which is an official BPMN process, the view will open in the official process mode.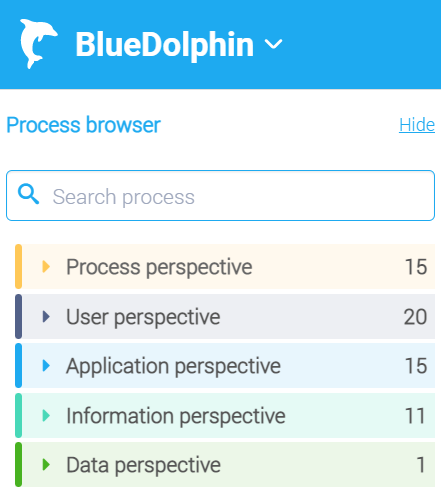 To open an official BPMN view without a BlueDolphin account, click on the URL of the view that has been shared with you.
Process perspective
In this part of the portal you can look something up at the process level. You can see all the processes that have been drawn up in this section.
User perspective
If you want to see a process drawn from a particular user (actor), look under User perspective. Here you can see all processes from the user/department/employee (actor) and which processes the user has.
Application perspective
If you want to know more about the processes of various applications, you can go here. For each application, you will find different processes in which the selected application is involved.
Information perspective
Here you can find the information flows that may be defined within your organization. What processes does the information go through and how is it passed on? You can find this type of information here.
Data perspective
Here you will be able to find all processes aimed at data. These processes are made within our Logical Data module.
Additional information to process publications
Information that appears on the right side of the screen to the right of the process is the extra information related to a process object and other BPMN objects, such as tasks.
What you see there can be determined by an admin by allowing the questionnaires that belong to an object. See an example below.
1. Go to Admin > Configuration > Object questionnaires.
2. Select the questionnaire you need.
3. Enable Show in official process.
4. If you want the information from a questionnaire to be displayed, check the checkbox as in the image below.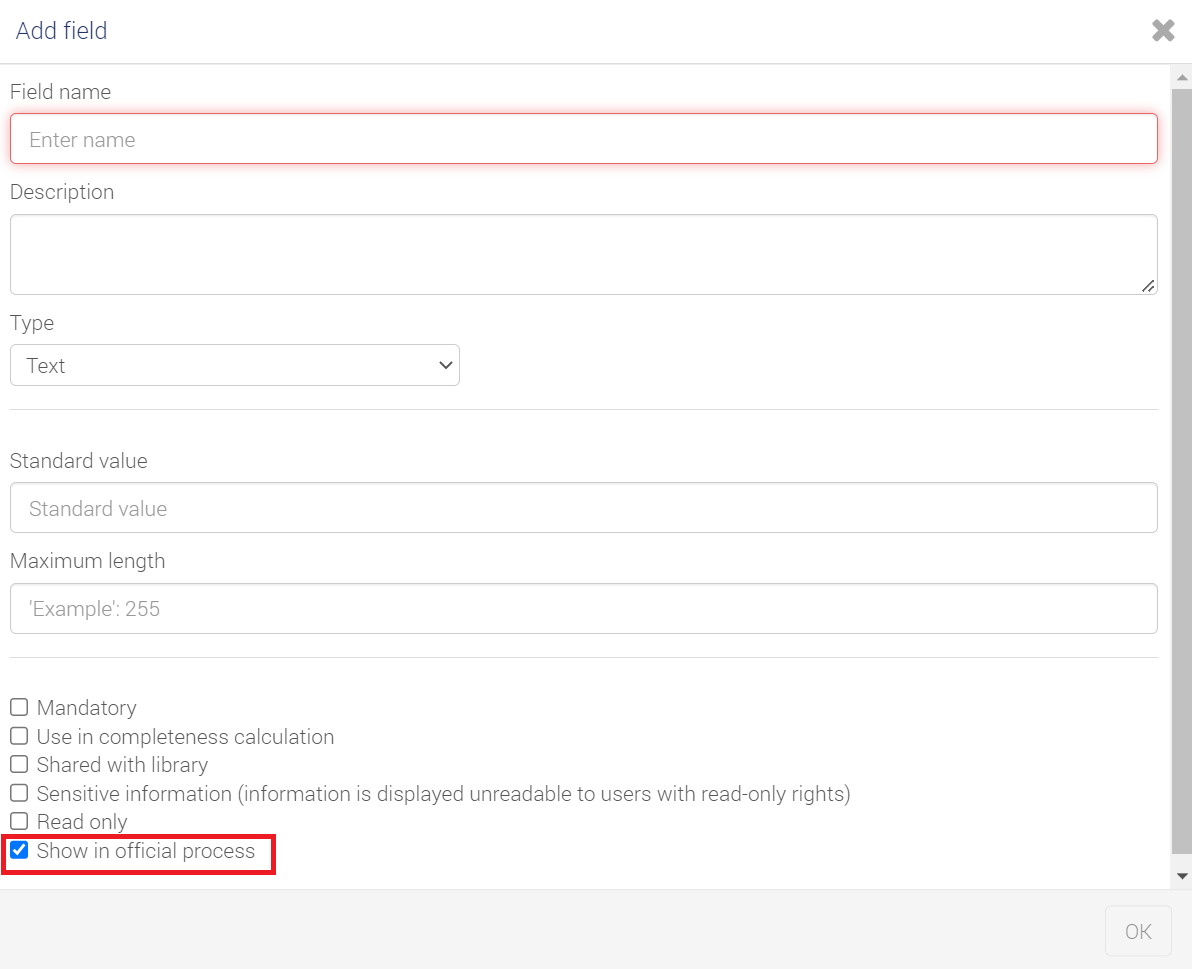 Please note the following, which is essential for a successful visibility of the field:
After the checkbox is checked, a BPMN view will have to be made official again to make sure that the fields you ticked are actually included in the publication! This way the most recent data is retrieved.
The checkbox works for the fields that are part of a process object and for fields that can be used in a BPMN record (tasks). Additionally, it also works for following ArchiMate objects used in the process:

A business process as a call activity
An application component connected to a task
A data object connected to a data store
A business object connected to a data object
A business actor as a swimlane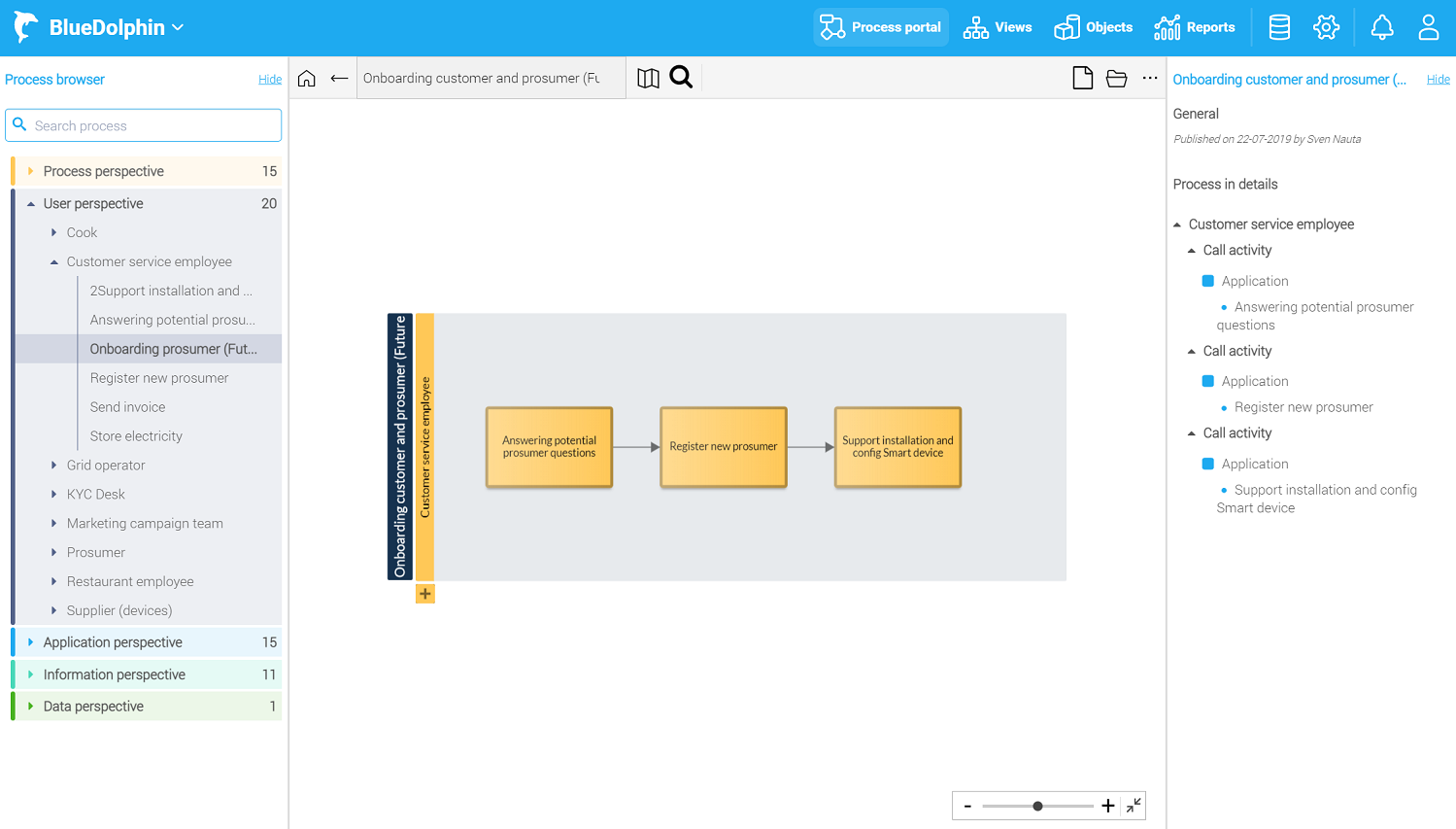 For a relationship type questionnaire field that has the checkbox Show in official process enabled, the process portal and the process download to PDF show the related object.
Note: If a process doesn't have any official views, you will be able to see it in the overview, but it will be marked with N/A. This indicates that this process does not have an official BPMN process.
The steps on how to make a process official are described in this article.