In BlueDolphin it's possible to set colors on questionnaires with a dropdown/select or dropdown/radio menu. The benefit of this is that the same color is always used for an unique answer.
For example, when using the conditional lay-out all questions answered with a positive value automatically get the same unique green color. Positive answers can be 'Yes', 'Good' of 'Positive'. It works similarly for questions answered with a negative value, like 'No', 'Bad' or 'Negative'. All these questions will get the same unique red color. In the image below you can see this example at the last two values ('Yes' and 'No')
The colors are set in 'Admin' under the heading 'Questionnaires'. When you open a questionnaire you will see that every value has its own unique color. This color is automatically filled in by BlueDolphin. This color will be visible on every view with this questionnaire.
By clicking on the color field, the color can be changed. The color can be changed to a standard color or you can make one with the color palette.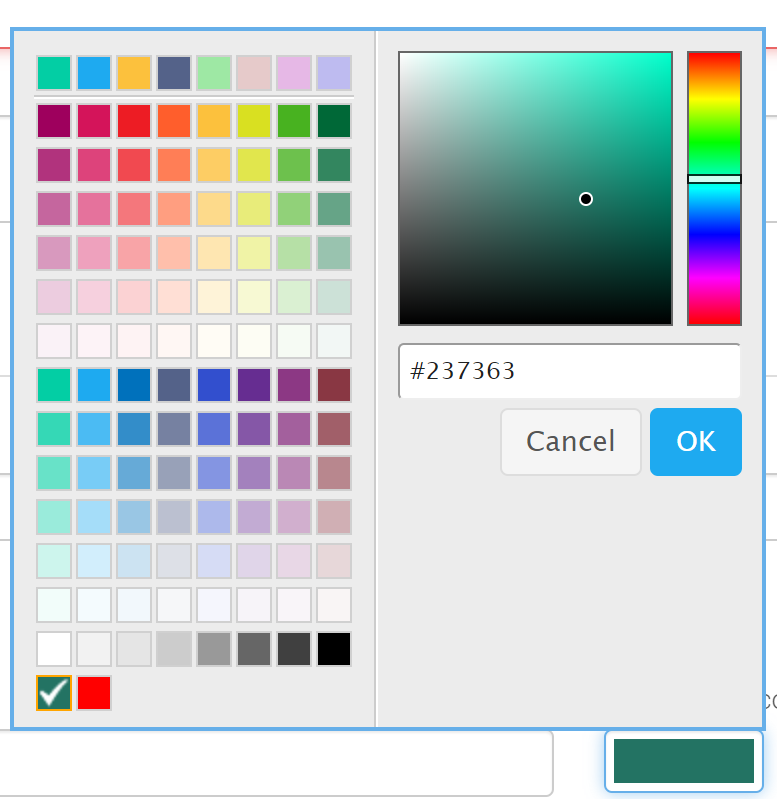 You can set a condition on a view via the icon of the conditional lay-out
. Via the dropdown-menu you can make a new condition by click in the ''+''. You will see the following screen:

At title you can name the condition. When you want to create a conditional lay-out for a questionnaire, you select 'Field value' in the first field under the header ''Condition''. Then, you can choose the questionnaire in the second field and the value in the third field. By clicking on 'OK' you will save the condition.
When a question has not been answered, the object turns red, because the answer is negative. The color changes automatically as soon as the question is answered.
If multiple answers are selected the object will have multiple colors.

If a conditional lay-ouy is enabled, you can see this via the legend. You can open the legend by clicking on this icon

.
Hovering over the elements in the legend will show an eye as shown in the image below. By clicking on this eye, you can temporarily turn elements on and off.