As an admin it is possible to transfer the ownership of a (multiple) view(s) from one specific user to another. This helps to retain important views/information when the person who created them leaves your organization. You will find this feature in Admin > Views. Here you can search for a view by using the searchbar or you can sort on two options: sort on owners or sort on views.
Sort on views
Here the views are visible in alphabatical order, or you can order them on the status or on the type. If you click on a view it will open a screen where you can see who the owner is of the view and with whom it is shared. Here you can transfer the ownership for this particular view. It is also possible to transfer more or all the views from one user to another user at once. First you will have to sort the views per owner.
Sort on owners
If you click on a user it will open a screen that shows you all the views made by this owner and with whom they are shared. The shared status will show you a maximum of three persons. If there are more people who have acces to the view you can make this visible by clicking the arrow:
To transfer all or more views at once you can select the views you want to transfer to another user by checking the box to the left. In this case we want to transfer all the views from one user to another. Please note: You can transfer views to only one other user.
If you click the "transfer ownership" button you can choose which user will be the new owner of the selected views.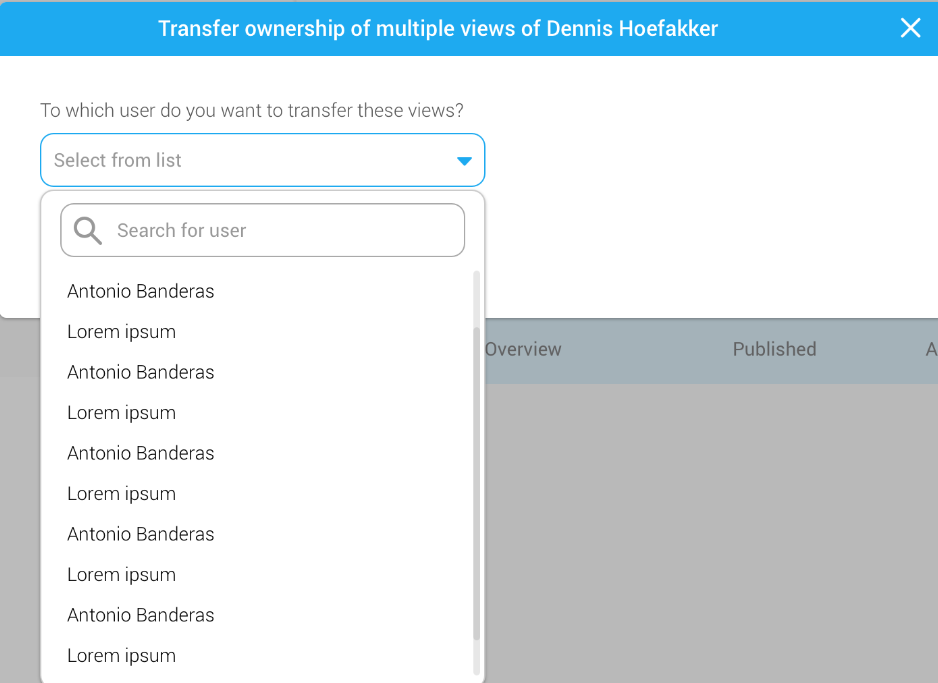 After you click "save" the selected views will be transfered. If somebody is working on one of the selected views you will get an error message and you are not able to transfer that view. So make sure that nobody is working on the view of which you want to transfer the ownership.