If you want to show someone some data without a BlueDolphin-account or let that person contribute to a BlueDolphin object, you can make use of the guest link functionality.
The guest link functionality is available when you have read/ write permission on the questionnaire.
You can find the guest link functionality on every questionnaire tab of a BlueDolphin object. You will see an icon which consists of three horizontal dots on the questionnaire tab. By clicking on the icon, you can generate a new guest link or manages any existing ones.

Creating a guest link
The screen below is shown when you choose for the option "Create guest link".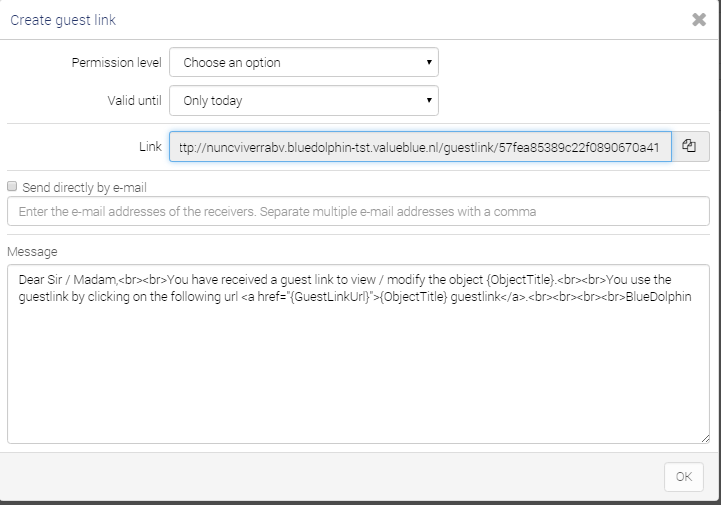 The list below describes different ways to generate a guest link.
Option

Description

Level of access

You can specify the level of access for the
guest link. You have the following choices:

Only reading permission

Writing/reading permission

Duration of the guest link

Here you can specify the duration of the guest link. You can choose between:

Only today
One week
Two weeks
Four weeks
Indefinite
Choose end date

Link

The url of the guest link will be shown here, you can copy and distribute the link or inform users via mail.

Send direct via

mail

When you want to inform users via mail, choose "send direct via mail". Next, write down the user's email addresses in the textbox. The e-mail addresses need to be separated by a ;


Message

Here you can view the message that the users will receive. The message has a standard text that you can customize to your own liking.
Manage guest links
You can use "Manage guest link' to see the active and expired guest links for the questionnaires of the object. The screen below will be shown when you choose the option "Manage guest link".
By default, you only see the guest links that are active. If you also want to see the expired or deleted guest links, you have to click on the icon with the three horizontal lines.
You have three options on the active guest links:
Retrieve information about the guest link, you will see how often the guest link has been opened/saved.
Copy the url of the guest link, you can copy the url to the clipboard.
Delete the guest link, you can delete the guest link so that it is no longer usable.