Valueblue provides the manual of BlueDolphin online, to give you optimal support when using BlueDolphin. You easily access the manual via the option "documentation". You can also access the documentation directly through your webbrowser. Go to http://zendesk.valueblue.nl/hc.
Choose the option "documentation" in BlueDolphin to access the documentation. See the figure below.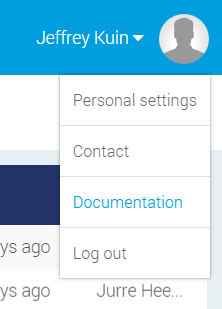 You will see the following screen, when choosing the option "support" in BlueDolphin.

You can write down your question in this screen, whereupon our software searches through the documentation and the tickets that are available. See the screen below.
You can create a ticket in our system via "Mijn antwoord staat hier niet bij - Neem contact op" if your question is not listed. You can create a ticket using the screen below.