You are about to start with the admin module of BlueDolphin. This page gives a brief summary of the module, how you work with it and refers you to additional user documentation
If you have the admin role in BlueDolphin you can use the tab "admin" for website maintenance and to apply configurations. This tab is not accessible for other other users.

The figure below shows the admin module.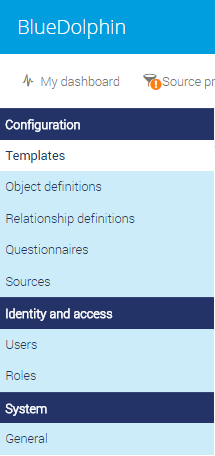 | | |
| --- | --- |
| | Here you can see a list of available templates that can be downloaded from the BlueDolphin library. |
| | Here you can configure object properties, add questionnaires to objects and link sources to objects |
| | Here you can define relationships, assign each relationship type to the corresponding objects and line up the relationship definitions to the object creation. |
| | Here you can create new questionnaires and adjust existing questionnaires. |
| | Here you can see an overview of the source data that are available within BlueDolphin, you can download the content of the source for consideration. |
| | Here you can create and delete users. You can also adjust the data of users over here. |
| | Here you can define, modify and delete roles. So you can give users the right permissions within your BlueDolphin environment. |
We have set up the admin module in a way to make you quickly find your way. The additional documents within this site can be of assistance.
Please let us know if you are missing some important information. Tips are also welcome!
Good luck managing your BlueDolphine site!
Team BlueDolphin